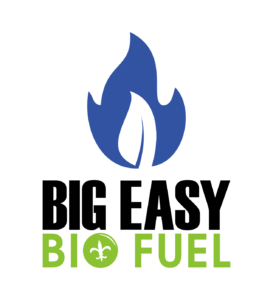 Recycling Services offered by Big Easy Biofuel for Used Cooking Oil and Waste Vegetable Oil in the greater New Orleans, LA area.
Big Easy Biofuel offers comprehensive used cooking oil (UCO) and waste vegetable oil (WVO) recycling services to commercial kitchens and residents throughout New Orleans proper, Kenner, Metairie, the West Bank and the North Shore (Slidell, Mandeville, and Covington). Unlike many other local New Orleans used cooking oil recycling service centers, we are completely legal, certified, and approved by the Louisiana Department of Environmental Quality. We are also the only cooking oil recycling center in the greater New Orleans, LA area that is open to the general public.
Our range of recycling services include:
Commercial and Residential Cooking Oil Recycling Services.
Big Easy Biofuel offers complete cooking oil recycling services to both commercial kitchens and the general public alike. We offer, completely FREE OF CHARGE, oil collection bins to size for all commercial kitchen operations in need of cooking oil disposal and recycling. We also allow the general public to drop off waste vegetable and used cooking oil at our Belle Chasse, LA facility.
Scheduled Cooking Oil Collection and Pick-Ups.
For commercial customers only, we schedule weekly, bi-weekly, or monthly cooking oil collection and pick-ups of used cooking and waste vegetable oil based upon need. We don't currently pick up oil from residential customers, but we do allow for the public to drop off used cooking oil at our facility.
Grease Trap Cleaning and Inspection Services.
New Orleans Grease Trap Cleaning, a sister company of Big Easy Biofuel, offers affordable grease trap and grease interceptor cleaning services to customers in New Orleans proper, Metairie, Kenner, the West Bank, Slidell, and LaPlace, LA. NOGTC is certified by the Sewerage and Water Board of New Orleans, and specializes in grease trap cleaning services for traps ranging in size from 0-7,500 gallons.
Filtration, De-Watering, and Waste Removal from Used Cooking Oil.
At Big Easy Biofuel we do more than just recycle and collect used cooking & waste vegetable oil throughout the greater New Orleans, LA area. We also filter, de-water, and "re-process" used cooking oil to meet a desired specification. We are one of the few facilities in the area with proper LDEQ permission, permits, and licensing to operate, and are open to offering our recycling services to third party used cooking oil collection and recycling companies.
---
Got questions? Contact us, as we are here to help.
E: [email protected]
P: 1(877)-7-BUY-WVO
Connect with us.